Harm van der Laan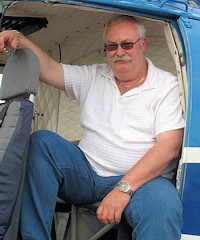 Harm van der Laan had a 39 year career in the Koninklijke Marechaussee which started in 1970 and ended in 2009. In those years he served on different places in The Netherlands, of which 12 years in Amsterdam supporting the municipal police. At the start and at the end of his career he was involved in the aviation business on Schiphol airport. In the 70ís as a passport control officer and from 1998 until 2009 as chief of immigration and finally ending his career as chief of the repatriation unit.
For many years he was for his hobby involved in aviation. As a spotter, collector of aviation postcards, safety cards and later as secretary of the Schiphol Aviation Group, a society of spotters around Schiphol airport.
In 2004 he switched to crashed planes of the Second World War, becoming secretary of the Aircraft Recovery Group 1940-1945. A society doing investigation after the air war 1940-1945 over The Netherlands. He is also responsible for the schedules of the volunteers in the Air warmuseum Fort Veldhuis and is also making the program of events during the opening hours of this museum. He wrote several articles for aviation magazines about the investigation after airline crashes.
In October 2011 Aad Neeven asked him to be his partner in the bookshop.
He is 60 years of age, divorced and has two children and two grandchildren.