Jim Sanders
Memory of Good Times
This page is dedicated to my great friend the late Jim Sanders. Through this page I very much like to keep ´alive´ the memory of the good times we had when discussing aviation, either over the telephone, by letter, or during my visits to New Zealand.
Biography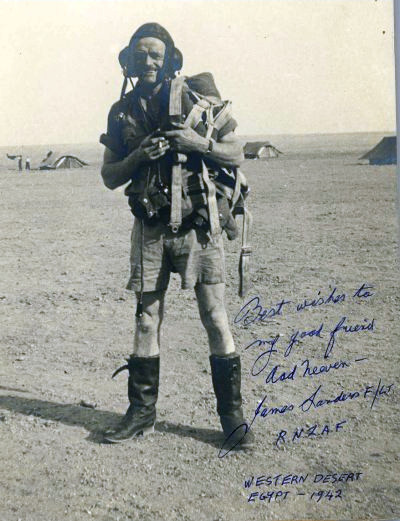 James Edward Sanders was a third generation New Zealander, born in Tangowahine, near Dargaville, on 4 March 1911. He had no real recollection about his father, who was sadly killed a year after he was born, when working as a kauri timber contractor in a logging accident in the bush.
Jim certainly had inherited talents from his forebears, a great sense of humour, and the urge to ´give it a go´ to what ever it was, when an opportunity presented itself. He worked on sheep stations before becoming a journalist.
During the war years he had enlisted in the RNZAF and was trained as pilot. He flew Blemheim, Baltimore and Halifax aircraft on daylight reconnaissance and night shipping strikes in the Middle East, Malta and Great Britain.
After the war, he turned to commercial art and newspaper cartooning, and in 1952 founded his own advertising agency. He was made a Fellow of the Advertising Institute of Australia in 1957, a Fellow of the Advertising Institute of New Zealand in 1958, and a Life Fellow of the Advertising Institute of New Zealand in 1970. When he sold the business in the late 1960s, the New Zealand Herald sought his services a feature writer. In 1971 he became supplements editor, and retired from the Herald at the end of 1978.
After retirement he became a full time writer and illustrator, writing and illustrating seventeen books, as well as specialising in oil painting of aeronautical subjects. On 3 October 1998 he died atMairangi Bay, Auckland.
Long Friendship
How would somebody from Holland get in contact with a writer literally on the other side of the world?

It all began in 1988, when together with my good friend Jon van der Maas; we started the research for a book about the air war over the city of Haarlem in the Netherlands, my place of birth. The New Zealanders had accidentally bombed the town, but about a month later, the whole of 487 (NZ) squadron was wiped out of the skies near the town.

My grandparents and mother were witness to the event, and even saw one of the Ventura's come down very near to their house, and an other one dive out of control in the fort moat of the village a few miles away. Therefore the New Zealanders played a prominent part in our book. After years of research we heard by chance that a New Zealander had written a book about Len Trent, but how to get a hold of it was another matter. Serious research resulted in finding Jim's address, and a telephone call from Holland was made. Could he help us with a copy of Venturer Courages? He could not, but promised to see what he could do.

Two weeks later the prized book was delivered to my doorstep with his complements. Jon and I read it in one day, and drew up a list of questions and improvements on the chapter dealing with the raid over Holland in which Len Trent earned his VC.

We were sure that after sending our long list, we would get no answer, as he might be offended. But he was not. He marvelled at the idea that we had taken the time to point out, and support it by evidence, why British archives and specialists had supplied the wrong information, even worse, they were still covering up the their mistakes. Clearly as two local historians could do it, the officials in Great Britain could have done so? This was the beginning of our friendship, and many long distance discussions. Jim had a tremendous knowledge about the whereabouts of New Zealanders who flew in the RAF. Together we approached them, and therefore we were able to piece the history of their crashes in Holland together, and by doin so got in contact with former Luftwaffe pilots, who in turn were eager to learn what had happened in the battles they fought. Even presents were sent to their one time opponents.

For Jim we are trying to compile a short description of each book he wrote. Just read and enjoy.

If you have anything to add, please contact me at aadneeven2002@yahoo.com or through the e-mail address of this webpage.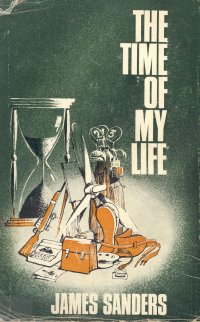 Book: The time of my life
"The time of my life" is an autobiography written by James Sanders. Hard Cover, 180 pages released by Minerva Limited in 1967.
James Sanders tells of his love of life, and the people he has met along the highways, saddleways and skyways.
He takes us with him as a trainee pilot in the RNZAF, and we share his guile in passing his wings exam. We journey with him to England, Malta, the Middle East and the Scandinavian seas as he tells us vividly of Air Force life.
We experience with him the reactions to repatriation as he settles down in New Zealand again as a civilian. There he opens a door a little to give us a glimpse of modern agency life.
All in all a great, warm human story.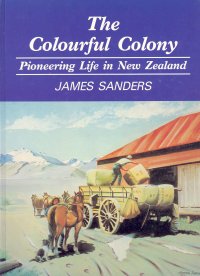 Book: The colourful colony
"The colourful colony" is an book pioneering life in New Zealand written by James Sanders. Hard Cover, 54 pages released by David Bateman Ltd. in 1983.

Colourful colony is illustrated with paintings, sketches and words the working lives of some of the pioneers who helped develop New Zealand around the turn of the twentieth century.

James Sanders has fascinatingly recreated the past so one can actually see an early furrow being ploughed by bullock team and wooden plough; the old stone store at Kerikeri in use; the back breaking job of pit-sawing the vast Kauri logs; gold panning; gum digging; the first overland electric telegraph being laid; the first railway; early rural mail delivery and many other examples of pioneering life in New Zealand.

Each full colour painting is accompanied by descriptive, lively, text, which provides a background to the activity illustrated.

It is a well-written and illustrated book.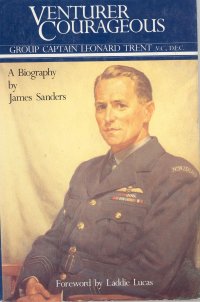 Book: Venturer Courages
"Venturer Courages" Group Captain Leonard Trent VC, DFC is a biography about a formation of twelve Lockheed Ventura bombers wriiten by James Sanders. Hard Cover, 266 pages released by Hutchinson Group (New Zealand) Ltd. in 1983.
On 3 May 1943, Squadron Leader Leonard Trent led a formation of twelve Lockheed Ventura bombers of 487 (NZ) Squadron on a raid on the Amsterdam power station in The Netherlands.
One Ventura turned back over the North Sea due to technical problems, but error on the British side brought disaster to the rest of the formation.
Out of the eleven Ventura's, only one survived. Thirty-one aircrew died and thirteen were taken prisoner. One of them was Trent. After parachuting to safety he was sent to Prisoner of War Camp, Stalag Luft III, at Sagan on the Oder River, near the Polish border. When the Great Escape took place, Trent was the seventy-ninth and last prisoner trying to escape, but was caught as soon as he appeared from the tunnel.
In January 1945 with the advance of the Russian armies, the prisoners were marched from Sagan to Trenthorst where he was later liberated. For his actions leading the Amsterdam raid Trent was awarded the Victoria Cross on 1 March 1946.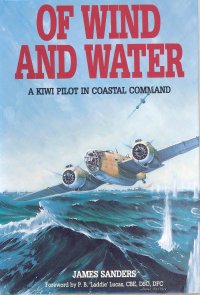 Book: Of wind and water
"Of wind and water" about a Kiwi pilot in Coastal Command written by James Sanders. Hard Cover, 146 pages, released by Mallinson Rendel Publishers Ltd. in 1989.
Of wind and water is the chronicle of James Sanders, who flew daylight reconnaissance and night-bombing sorties with the RAF maritime force.
The book takes us from his early days training in England to operations in the Mediterranean theatre, where he flew reconnaissance flights in search of enemy convoys 'en route' to Rommel's army in the Western Desert. Incredibly he survives several major crashes before being posted back to England as General Reconnaissance instructor. Finally he qualified for a command and went on to operate perilous anti-shipping sorties off the Scandinavian coast.
All his skill accumulates in bombing a German submarine, however, it is never established on which submarine he scored the hits.
His story is a lyrical evocation of the joys and hazards of being airborne.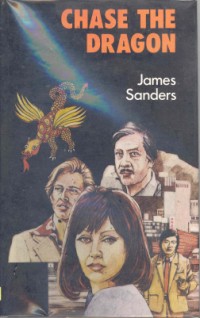 Book: Chase the dragon
"Chase the dragon" is an adventure thriller written by James Sanders.
Chase the Dragon is an action-packed adventure thriller written around the multi-million dollar drug traffic that starts in the opium poppy fields north of the Thailand border and is channelled through the Chinese Triad societies of Hong Kong.
James Sanders tells a fast moving authentic story with a blend of toughness and tenderness about three travellers in South East Asia. They meet with some strange and plausible characters at a Bangkok cocktail party. One of them, Susan, is on her way to Hong Kong and is asked to deliver a seemingly innocent toy dragon to a Chinese woman at Hong Kong International Airport.
When the toy is stolen, the action starts.